We have 11 rooms. Two single rooms without balcony. Six double rooms with balcony. One double room with additional sofa bed and balcony. One double room with additional two sofa beds and balcony and one double room with additional sofa bed without balcony.
Restaurant
Naturally regional and traditional
Restaurant
Enjoy the lovingly prepared dishes
In a cosy atmosphere you can enjoy our traditional and home-style cooking, prepared with products from our region. We adapt our menu according to the season and also serve asparagus, game dishes, cheese fondue as well as butcher specialities from the region.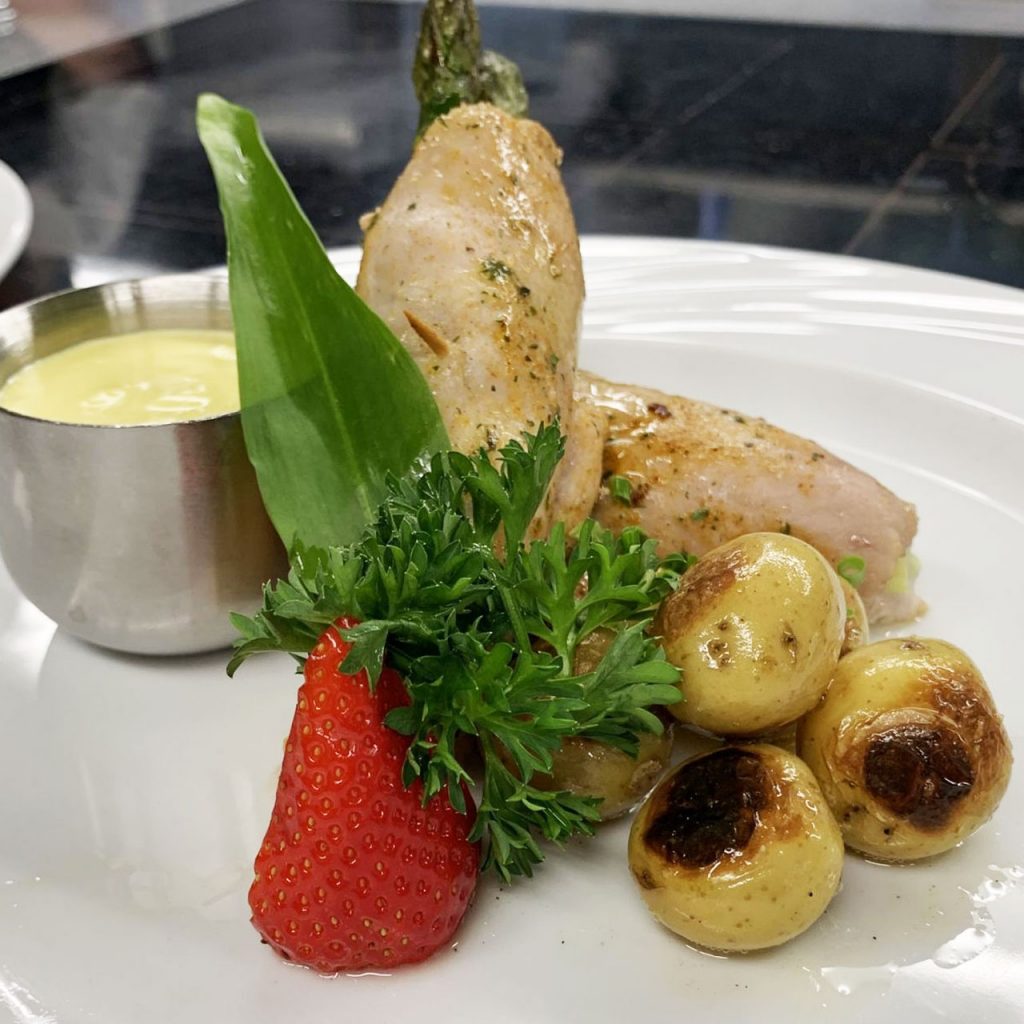 Terrace
Enjoy the view in the fresh air
On our sun terrace you will find your place to relax and enjoy. A large fabric roof and numerous sunshades provide pleasant shade. Enjoy your aperitif or digestif in complete relaxation.
Restaurant
Enjoy your beer for after work or aperitif
For business lunch, meeting with friends or just to enjoy. Breakfast and the proven evening experience are joined in the dining room by lunch. A place where you quickly forget the time also thanks to the good food.
Bisera & Edin Garibovic with Albin, Alina and whole La Furca team
For love of Disentis/Mustér
We run our family business with a lot of enthusiasm and passion
Welcome to our hotel, the Hotel Restaurant La Furca in Disentis/Mustér. A place where people know each other by name, ponder life over a glass of wine and time finds its own beat. Treat yourself to a few cosy hours or even days with us.
The hotel was acquired by us in July 2022 and we run the house as a family business, together with our family (Albin – trained hotel specialist; Alina – high school student in the monastery high school) and the team.
La Furca is a matter of the heart for us.
Under the old name we run the hotel, which is located in the center of Disentis not far from the train station. Your visit is a great pleasure for us. We run our family business with a lot of enthusiasm, dedication and passion. We have one goal above all: to make our guests› stay pleasant, to take care of them personally and thus to create the framework for unforgettable memories.
We give our best every day anew, so that you fill all around well. In a cozy and pleasant atmosphere you can enjoy our seasonal and traditional cuisine prepared with products from our region, in addition to the traditional Grisons specialties Malund and Bizochels. Depending on the season we also serve asparagus and game dishes, cheese fondue as well as butcher specialties from the region.
For the good of all
Thinking about the environment
Due to our conscious interaction with nature and our commitment to Soft Mobility, we were awarded the title «Alpine Pearls Host». Enjoy an environmentally friendly vacation in our house. We identify ourselves with the idea of Soft Mobility. Environmental protection is of great concern to us and our company implements measures for climate protection and energy efficiency. Our house is connected to the heat network of Recal SA.
Recal SA has set itself the goal of using the firewood from the region for heating and production heat. And as far as also an important employer, which uses the resources of the region and achieves a high added value. Our hotel, which is sunny situated directly at the railroad station, offers you beside the wonderful view of the Vorderrheintal with the unique mountain world above all an ideal starting point of your vacation activities. The free local bus connects you quickly with the mountain railroads in winter. In a short time you are high up in the skiing area, where nature shows itself from its most beautiful side.
environmentally friendly arrival
In summer you benefit from the generous inclusive offer from one overnight stay. Around our hotel ideal sports and leisure activities make your vacation varied and relaxing. Our staff actively informs and advises our guests about an environmentally friendly journey and about the possibilities of a vacation without a car. We are proud to be part of an alpine-wide initiative for climate-friendly travel as an awarded «Alpine Pearls Host».
Picture gallery
Insights into our home
Experiences around Disentis
In addition to the many activities for the body, our region naturally also offers a variety of offerings for the culture-loving mind.
In the summer
Our region is the ideal holiday area and offers a super infrastructure and countless activities such as: Hiking, Nordic walking, mountain tours, biking, cycling, tennis, table tennis, golf, mini golf, floorball, gold panning, fishing, fitness centre, climbing hall, the Fontanivas bathing lake or the Sedrun adventure pool.
In the winter
Deep snow slopes, cross-country ski trails and pistes await you in all their splendour and invite you to: Skiing, carving, freeriding, deep snow and ski tours, snowshoeing, ice skating, curling, tobogganing, winter hiking, cross-country skiing or paragliding. So don't wait any longer and get to know our holiday region.
At the moment we do not have any vacancies.
Hotel Restaurant La Furca
Bisera & Edin Garibovic
For a car-free journey, we recommend taking the Matterhorn Gotthard Railway from Andermatt or the longest narrow-gauge railroad, the Rhaetian Railway via Chur through the Rhine Gorge to Disentis.
A car-free journey is not only environmentally friendly and climate-friendly, but above all relaxing and exciting. So start comfortably at your nearest train station! Our hotel is located 1 minute walk from the train station.
You can find the current timetables at
You can reach us by car, motorcycle or bicycle
coming from Chur or direction Oberalppass:
– Main crossing in the middle of Disentis
– direction Lukmanierpass
– after 100m turn left towards the train station.
Coming from Lukmanierpass:
– Village entrance Disentis
– after 200m turn right in the direction of the train station.
In front of our hotel there are enough parking spaces available. Motorcycles and bicycles can be parked in the garage.
The Oberalp Pass is closed in winter from Andermatt. You can load your car in Andermatt to Sedrun on the Matterhorn Gottard Bahn. The journey by car from Sedrun to Disentis then takes about 15 minutes. For more information, visit www.mgbahn.ch.
The Lukmanier Pass is basically open all year round.
Please also see www.strassen.gr.ch.
Bisera & Edin Garibovic
Via dalla Staziun 1
7180 Disentis/Muster
Switzerland
+41 (0)81 947 52 27
We are already looking forward to seeing you!